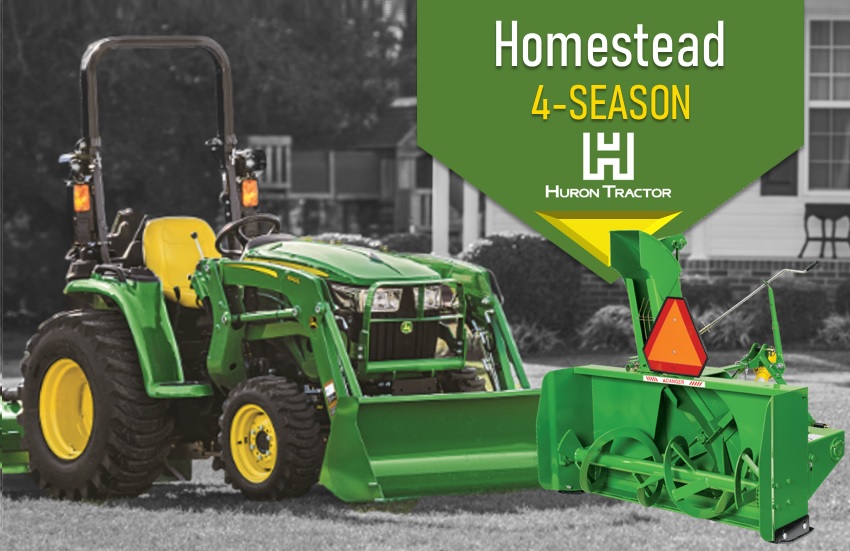 Homestead 4-Season Package
3025E (25hp) Tractor + Loader + 72" Rear Blade + 64" Rear Snow Blower
This small farm and landscape tractor package is economical and comfortable to operate - perfect for chores around your homestead and hobby-farm. Increase your 4-season versatility with this rear snow blower attachment package.
Contact your local store.
Package Price: $44,593.85
$527/month
0% APR for 72 months
15% DOWNPAYMENT. TAX NOT INCLUDED
Click for Financing Offer Details
Offer valid from September 27, 2023 until October 27, 2023.

0% APR/ACR purchase financing for 72 months on "Homestead 4-Season Tractor Package". Cash price for "Homestead 4-Season Tractor Package" including a new John Deere 3025E Compact Utility Tractor, John Deere 300E Loader, Frontier 72" Rear Blade, and Frontier 64" Rear Snow Blower: $44,593.85 includes delivery, freight, preparation, set-up charges estimated at $3200, and $50 documentation fee. Taxes not included. 15% down payment required. Monthly payments based on cash price of: $44,593.85 less a down payment of $6,689.08 at 0% APR/ACR, monthly payment is $526.46 for 72 months, total obligation is $44,593.85, cost of borrowing / credit charges is $0.

Monthly payments/cost of borrowing / credit charges will vary depending on amount borrowed/down payment. Minimum finance amount may be required. The charge for amounts past due is 24% per annum. Individual dealer charges may vary. Dealers free to set individual prices. Additional dealer fees may apply. Financing on approved John Deere Financial credit only. See dealer for details. May not be combined with other offers. Program subject to change without notice at any time. Discounts or other incentives may be available for cash purchases. By selecting the purchase financing offer, consumers may be foregoing such discounts and incentives which may result in a higher effective interest rate. Offer subject to availability and may be discontinued or modified. Taxes not included.

6- Year, 2000 Hour Limited Powertrain Warranty: All compact utility tractors purchased new from an authorized John Deere Dealer come standard with a 6 year/200 hour (whichever comes first) Powertrain Warranty. See the Limited Warranty for New John Deere Turf & Utility Equipment at dealer for details.

The engine horsepower and torque information for non-Deere engines are provided by the engine manufacturer to be used for comparison purposes only. Actual operating horsepower and torque will be less. Refer to the engine manufacturer's web site for additional information.
Package Includes:
3025E COMPACT UTILITY TRACTOR: 25 HP diesel engine, 4-wheel drive, open station, hydrostatic transmission
300E LOADER: lift height of 84" and maximum lift capacity of 1186 lbs (537 kg)
72" REAR BLADE: Frontier RB2072 rear blade with adjustable angle, tilt and offset, reversible cutting edge
64" REAR SNOW BLOWER: Frontier SB1164, 3-point-hitch rear snow blower attachment
6-YEAR POWERTRAIN WARRANTY: 2000-hours Limited
3025E Compact Utility Tractor features:
Easy-to-use hydrostatic transmission (HST) increases tractor performances.
• Twin Touch™ foot pedals for quick and easy forward/reverse operation.
• Ideal for loader or mower applications where frequent direction and speed changes are needed.
• No clutching for fast direction changes.
• The Twin Touch configuration also makes it easier to "inch" the tractor forward or rearward (i.e. when attaching to implements.
Excellent maneuverability and easy operation with standard four-wheel drive (4WD) and power steering.
• Both 4WD and power steering are standard equipment allowing for excellent maneuverability and ease of operation.
• Standard 4WD and differential lock add traction to help negotiate sandy soil, mud, snow and tough chores.
• Tightest turning radius in its horsepower class at 44".
• Power steering means fewer turns of the steering wheel than manual steering, which is especially valuable when mowing around obstacles or during front loader work.
• Generous ground clearance means you won't bottom out with this tractor when taking on uneven terrain.
Comfortable and convenient open operator's station is designed for greater comfort and increased visibility.
• An uncluttered design gives operators of all sizes plenty of room to be comfortable.
• Adjustable, contoured, comfortable seat enhances operator comfort.
• Flat operator platform provides for easy entry to/exit from the tractor.
• Folding Roll-Gard™ rollover protective structure (ROPS) and retractable seat belt increase operator safety.
• Efficient and powerful liquid-cooled diesel engine offers deep reserves of torque for handling tough loads.