People are the difference.
Congratulations to these dedicated team members as we recognize and award their milestone years of service. To each and every one of you, thank you for your outstanding commitment in fulfilling Huron Tractor's legacy of great customer service with your decades of experience. It all starts with the great people on our team.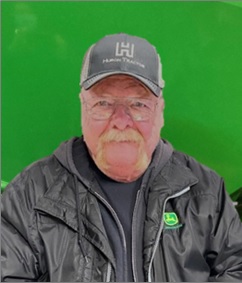 Harley Zeehuisen
Walkerton Ag Sales | 40 YEARS

Harley started his career with Huron Tractor in 1971, as a set up technician in Exeter. In 1972, He accepted an opportunity that arose in the parts department in Blyth. Harley successfully sold parts and John Deere merchandise products, such as bicycles, BBQ's and tool boxes over the next several years. His success in selling these products made Harley a natural fit to transition into an Agricultural Sales role that took him back to the Exeter location.
Over the years Harley has explored several outside positions. He was part of an ownership group for a John Deere dealership in Rodney, before returning to Huron Tractor Walkerton in 1985. He also worked at Bryan's Equipment before returning to Walkerton again in 2008.
Harley's outgoing personality, sense of humor and enjoyment of interacting with people, has served him well throughout his career.
We congratulate and thank Harley for his 40 years of service.
---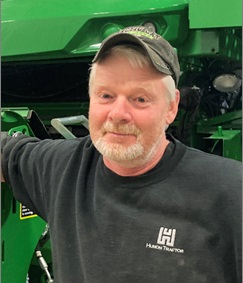 Tony Veroude
Exeter Ag Service Technician | 30 YEARS

Tony started his career at Huron Tractor Exeter in 1991. Tony's parents came from a family farm in Holland and his love of farm equipment has continued from there. Tony began in the shop doing washing, painting, and setup work. His care for the products and attention to detail in completing his work was quickly noted. It was immaculate with perfection that was often commented on. Tony transitioned his talents into fabrication for many projects on planters, as well as corn heads being narrowed or widened. Today, Tony is one of the leading combine technicians performing ASI's and repairs.
Away from work, Tony keeps busy with his toy farm collection, reconditioning older vintage tractors and tractor-pulls, along with supporting his daughter and son.
Congratulations Tony on your 30 year service award. We very much appreciate your positive, friendly demeanor with everyone, and your dedication and passion for your work. A sincere thank you from your Huron Tractor family.
---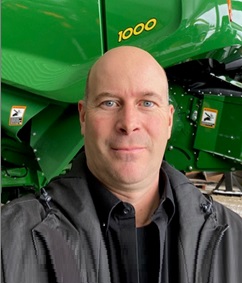 Todd Wilkie
Walkerton Store Manager | 20 YEARS

Following 8 years with an automotive dealer, Todd joined Bruce Tractor in Walkerton in an accounting role in 2003. When Bruce Tractor and Ivan J.H. Carmichael Ltd. (Chatsworth) formed NorthRidge Tractor in 2005, Todd bought into the business as a partner and took on the role of controller. When NorthRidge Tractor joined the Huron Tractor fold in 2009, the ownership group had the trust in Todd to ask him to lead the Walkerton store.
With a quiet confidence Todd, is highly respected by his peers for his in-depth business knowledge, experience and reliability.
Todd and his wife, Susan, reside just outside of Hanover with their son, MacKenzie, and daughter, Katelyn. When not at work, Todd can be found supporting his community as a minor hockey coach.
Our sincere thanks and congratulations to Todd on 20 years of dedicated service and leadership.
---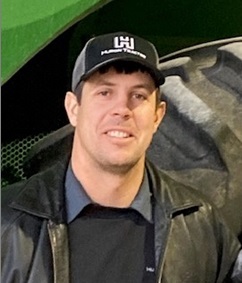 Brian Dolmage
Blyth Service Shop Foreman | 20 YEARS

Brian's career began with Huron Tractor Blyth as a co-op student. He will often blame those early days as the source of the problem when challenged with something more than anticipated. His agriculture background, along with an ability to absorb and retain information, made him an exceptional fit and he enrolled in the JD Ag Tech apprenticeship program. During the years following, Brian's focus on combines and the ever-changing world of Precision Ag, has continued to challenge and motivate him. With his impressive knowledge, Brian is often the "go to" guy when diagnosing an electrical issue or for clarification on compatibility between units and attachments and takes pride in finding answers. After years as a road technician, Brian now supports the service department as the shop foreman and mobile tech, maintaining a high level of service that customers and the dealership appreciate.
Away from work, Brian and his wife, Jess, along with their three children, have taken over the family farm. They built a new home to enjoy, well-earned through their many efforts and hard work. Brian is an avid baseball player as well as supportive Dad, with his kids playing in baseball, soccer and hockey. When time and schedule allow, you will often find Brian camping with his family in the summer months or travelling to an arena in the winter.
Thank you Brian for your contribution to the Huron Tractor team for 20 years. Congratulations!
---
Darcy Brown
St.Thomas Service Technician
10 YEARS


Kevin Hachey
Stayner Delivery Truck Driver
10 YEARS


Mark Ruigrok
Chatsworth Service Technician
10 YEARS


Leanne Smith
Exeter Senior Account
10 YEARS


Congratulations and Thank You!