Our commitment to great customer service starts with the great people on our team.
You may already know and recognize many of the friendly faces around our Huron Tractor stores. They are your neighbours, part of our local communities, and hard-working members of our Huron Tractor team. But sometimes it's fun to learn just a little bit more about the people serving you from "under the Huron Tractor hat".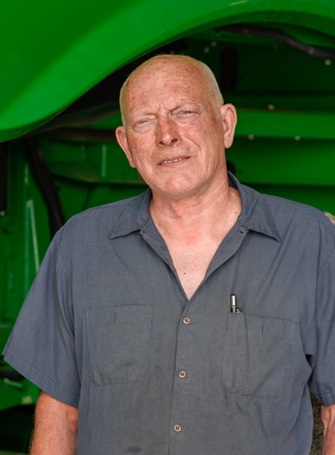 Meet Fred Wilker.

Service Technician | Huron Tractor, Chatham

With 44 years' experience, Fred is the person the younger service technicians go to whenever they have questions. He's seen it all!

How I Got Here: At the age of 16, Fred recalls starting work in a furniture factory for $1.75 an hour. He worked at a few different factory jobs in those younger years trying to find the right fit, but never felt challenged or fulfilled.

Eventually in 1979, he saw an ad in the paper for a small engine mechanic. Thinking he might be a good fit, he applied for the position on a Thursday, got a call back on Friday, and started his first shift on Monday at our Chatham store, which was McGrail Farm Equipment at that time.

Well Fred was right, he was the perfect fit for the job! And 44 years later, he continues to lead the service shop in work efficiency and as a highly-respected mentor. With his great sense of humour and wealth of knowledge, everyone looks up to Fred and appreciates his positive influence in the shop.

When Not At Work: In his free time, Fred enjoys fishing and riding his motorcycle. During the winter months, he is busy putting his mechanical experience to work building and racing remote-controlled cars.

Favourite John Deere: Fred likes the vintage John Deere 100 and 200 Series Lawn and Garden Tractors which were introduced in his early career. Makes sense, since they are known for their sturdiness and long-standing reliability – kind of like Fred.

Why I Love What I Do: After all these years, Fred still loves the everyday challenge and fulfillment of working on Ag and Turf equipment and being able to help customers stay up and running, as well as helping those who work alongside him in the service team.

Fred, from everyone at Huron Tractor – we are so grateful for your many years of hard work and all you continue to do at 44 years experience and going strong!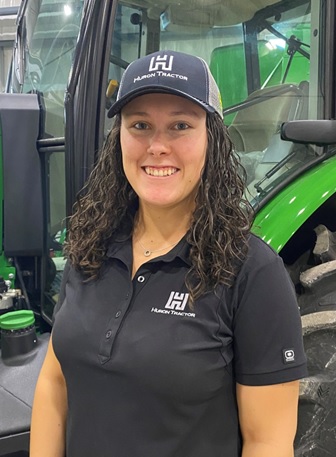 Meet Grace Millsap.

Parts Representative | Huron Tractor, Stayner

Grace is 20 years old and lives in Creemore. Growing up on her family's beef farm, she has always had a passion for agriculture and from a young age, been involved in 4-H and their local agriculture fair.

How I Got Here: After graduating from the University of Guelph Ridgetown Campus in the Agriculture Diploma program, Grace completed her summer student term with a local agri-retailer as a crop scout and office assistant. She then joined our parts department at Huron Tractor in September 2022.

In this short time, Grace has already stood out and excelled in her role at the parts counter. She's a quick learner, observant, hard-working, and shows great initiative and teamwork.

When Not At Work: Grace continues to stay very active and involved in the local "Great Northern Exhibition" fair and Collingwood Agricultural Society. She also enjoys helping on her family's farm, spending time with family and friends and playing broomball and baseball.

Favourite John Deere: Grace has always liked antique tractors and seeing the evolution from the past to today. If she had to choose a model, it would be a John Deere Model AR, because her family owns a restored 1952 AR which belonged to her great uncle.

Why I Love What I Do: Grace loves spending every day working with people and customers she's known for years, as well as being able to stay close to her family and their farm. The local farming community means a lot to her and she enjoys the challenge of tackling new tasks and taking on something different every day.

From all of us at Huron Tractor – a big thank you, Grace! We're so glad you're part of our Huron Tractor family.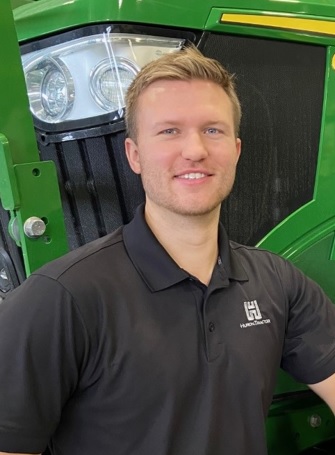 Meet Jeff Stephens.

Branch Manager | Huron Tractor, Mitchell

Jeff grew up on his parents' farm near Kirkton and now resides with his wife Meghan and their daughter Norah on their farm just outside of Hensall. He's always had a passion for agriculture and John Deere equipment. In fact, it was at the age of 15 that he began working at Huron Tractor, detailing used equipment for The Trade Barn.

How I Got Here: In high school, Jeff continued to work in our Exeter shop as a co-op student. Then in college, he worked summers as a Machine Optimization Specialist and managing our Large Ag Demonstration program. After graduating from Mechanical Engineering Technology, he took on the responsibility of Precision Ag Consultant & Optimization Specialist in Exeter, before transitioning to our Mitchell store in 2017 as an Ag Sales Rep, and now moving into the role of Mitchell's Branch Manager.

Jeff is smart, hard-working, and rolls up his sleeves to take on any task with enthusiasm. Combined with his strong technology background and hands-on knowledge, Jeff also has a sincere appreciation and care for his team, customers, and community. He works with integrity, and is always approachable and eager to help.

When Not At Work: Jeff enjoys spending time with his wife Meghan and their young daughter Norah. With his passion for farming, it's no surprise he also stays busy doing some custom-farming for neighbours and friends, as well as running some of his own cash crop land.

Favourite John Deere: For Jeff, it's any John Deere 8000 Series tractor. Whether it be an 8410 from the early 2000's or a new 8R 410. They can do so many jobs and are "rock solid" tractors.

Why I Love What I Do: It was an innate love of agriculture and equipment that led Jeff to his Huron Tractor career at a young age, and every day he continues to love working with the people and equipment in this industry.

From your Huron Tractor family – we love working with you too, Jeff. A BIG thank you for all you do!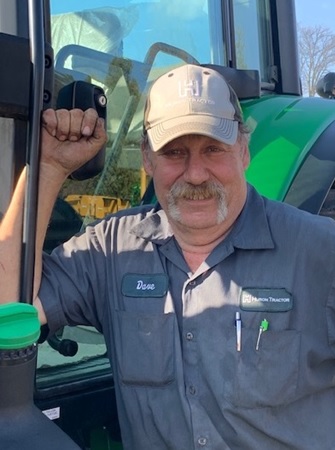 Meet Dave Howald.

Service Technician | Huron Tractor, Hyde Park

Dave has been with Huron Tractor for nearly 30 years. He and his wife Darlene, have been married 38 years and live in Ilderton, where they raised their (now adult) children, Jack and Caitlin. Dave is a Licensed Agriculture, Small Engine, and Marine Mechanic – and he would help anyone, at the drop of a hat.

How I Got Here: Dave grew up on a dairy farm in the Ilderton area and was always interested in taking equipment apart to understand how it worked. He enjoyed anything mechanical - from farm equipment to vehicles, motorcycles and snowmobiles.

He began his career at a competitive farm equipment dealership in Strathroy. In 1993, Dave saw a job opportunity advertised when Huron Tractor acquired our Thamesford store (formerly Green Acres) and ever since, he's been a great asset to our service team. He started as an Ag & Turf Technician in the Thamesford shop, moving to Road Technician in 1996, and into the role of Service Manager from 2005 to 2018. He continued in Thamesford as Shop Foreman till February 2022, at which time he made the move to our Hyde Park shop, allowing him to put his valued wealth of knowledge, leadership, and experience to work closer to home.

Dave's got a big personality and even bigger heart. He fills the shop with a positive, fun-loving atmosphere, is a natural mentor to those around him, has an enormous skill set, and a genuine care for people.

When Not At Work: You'll find Dave working just as hard when he's off the clock, extending his big heart helping the community and friends. He's been an active member of the Ilderton Lions Club for over 23 years and currently is Chair of Lions Food Services, which keeps him busy operating their food trailer and working at community events. He also enjoys hunting, fishing, riding his motorcycle, and helping his good friend on the farm baling hay.

Favourite John Deere: Dave's favourite Deere tractor models include the old 55-Series Waterloo Tractors and 7000/7010-Series Tractors. These were the new line of tractors when Dave first started with Huron Tractor so he's worked on many over the years and always found them very well built and dependable.

Why I Love What I Do: Dave's enjoyment of mechanics and people, has always made this a natural career choice for him. However, what he has really come to appreciate over the years, is how every aspect of his career has been backed by Huron Tractor. He has always felt encouraged and supported to learn different aspects of the business and work toward any goals.

It's often said, what goes around comes around – and likewise Dave, your Huron Tractor family appreciates YOU for all your support. We want to extend a big thank you for always giving so much of your time, energy, and expertise to our customers and Huron Tractor team.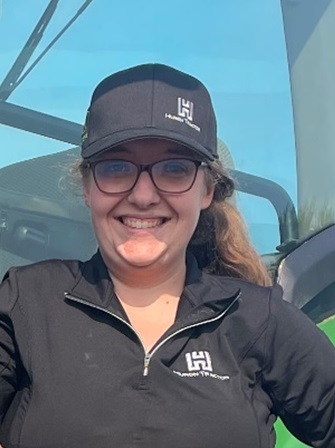 Meet Katie MacDonald.

Parts Representative | Huron Tractor, Chatsworth

Katie is 21 years old, and grew up on her family's beef cow-calf farm outside Durham. She was always around when equipment was being repaired on the farm and naturally involved in the "parts run" that went along with the repairs. Little did she know, she was preparing for a future Parts career.

How I Got Here: Studying auto-shop all through school, Katie got experience working in parts through co-op placement. After graduating in 2019, her auto-shop teacher (who clearly recognized her talent) phoned Katie directly and convinced her to apply for a Parts Representative opportunity posted for our Huron Tractor Chatsworth location.

Smart, hard-working, and dedicated - Katie was a natural – and such a fast learner that she soon took on the additional responsibility for the Chatsworth store's Honda Power Equipment line. Now, as the resident go-to person, she's become affectionately known at the store as "Honda-Katie".

When Not At Work: As an avid photographer, Katie has put her skills to work most recently photographing for the Sauble Speedway and for many years previously at the Varney Speedway. Katie also enjoys DIY projects, baking, and spending time with friends and with family on their farm.

Why I Love What I Do: It only makes sense that with her aptitude for quick-learning, Katie loves that each day brings a new challenge. But most of all, she loves the people! Working with great co-workers and interacting with customers to help find the parts they need, makes every day fulfilling.

Our Huron Tractor team is thrilled that those early 'parts-run' days eventually led to a career with our Chatsworth Parts Team - and we want to take this opportunity to say - thank you Katie!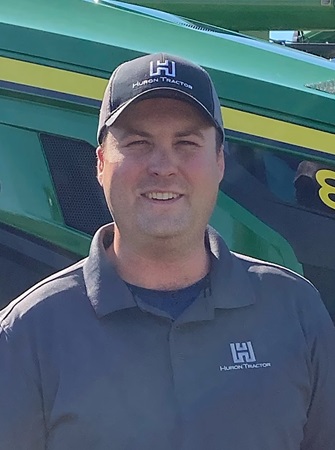 Meet Matt Steeper.

Precision Ag Optimization Specialist | Huron Tractor, Exeter

Matt is 34 years old, and his wife and kids call him "fix-it dad". As a 9-year veteran with our Precision Ag department, Matt is a vital asset to our team and often the first call for "fix-it" help with farmers too.

How I Got Here: Growing up, Matt gained a diverse farm knowledge working on both his parents' cash crop farm near Corbett, and his mother's family's farm, Crunican Orchards south of Elginfield. Both farms were started over 100 years ago, and Matt is devoted in helping ensure they continue to thrive.

Working at a dairy operation, chicken barn, and pig barn, during high school, Matt continued to gain new insights on different farm types, and the value of hard work and perseverance. His capacity proved evident after high school with his 12-month accelerated completion of Fanshawe's 2-year Electronics Engineering Technician Program. He was immediately snapped up by a local electronics manufacturer and began work building products like self-leveling grade lasers, and receivers with grade control for the construction/mining sectors.

Five years later in 2013, Matt joined Huron Tractor's Precision Ag team, where he was able to connect his electronics/technology education to his love of farming. Since then, Matt's role has continuously evolved with the development of technology and differing customer needs. His passion for new ideas and continuous learning, is paired with extensive knowledge, dedication, and a friendly, patient demeanor. Matt is a greatly appreciated talent, by our both customers and staff.

When Not At Work: Matt continues to help on the family farms, and although his background is with electronics, he's also constantly working on wood products, electrical, plumbing, and mechanical problems. His growing and busy young family enjoy camping, canoeing, hiking and exploring caves together. And Matt likes swimming, biking, fishing, as well as playing in intramural baseball and hockey leagues.

Favourite John Deere: MY10 8345R. Matt describes it as the perfect blend of old power and new technology, and also loves the styling.

Why I Love What I Do: Matt loves being on the leading edge of technology, working with the most progressive farmers in the world, and helping grow the food we consume. When a farmer's in need, Matt finds it rewarding to help and be needed for his skills.

A big thank you, "fix-it" Matt - for your long hours and dedication putting your incredible skill set to work for our customers and our Huron Tractor team.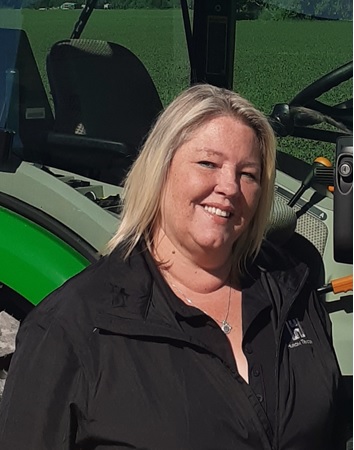 Meet Toni Martin.

Service Writer | Huron Tractor, Comber

Toni was born in Wallaceburg, and moved to Chatham in 1992. She joined Huron Tractor Comber in 2020, and her hard-working nature and love for helping people has made her a great asset to our service team.

How I Got Here: Toni's big heart and love of helping others was evident in her choice of education as a Child & Youth Worker and Early Childhood Education. In fact before starting with Huron Tractor, she spent the majority of her work life in a long career with Big Brothers Big Sisters of Chatham-Kent as the Program Coordinator/Fund Generation & Community Liaison. However cut backs in that sector led her to a new career path as a Warranty Administrator in the automotive industry and then to Huron Tractor as a Service Writer.

Toni's excellent work ethic and friendly personality, paired with her love of helping people, make her a great fit at Huron Tractor. She's hard working, organized, diligent, and always on top of things.

When Not At Work: Toni is the proud mom of Chris (27) and Dan (25). She's always working hard, so especially enjoys time at home cooking, or spending time with her kids, as well as time out with friends. She loves socializing and helping in the community, previously as a Rotarian and currently as co-chair of the Torch Ride for Special Olympics in Chatham with Chatham-Kent Police Service.

Favourite John Deere: A Gator, because they are so much fun to drive!

Why I Love What I Do: Toni likes that every day is different. She enjoys challenges and the people she works with every day – both customers and co-workers. But most of all, she loves helping others - and working in our service department, that's what it's all about!

Thanks for all you do Toni – we appreciate you!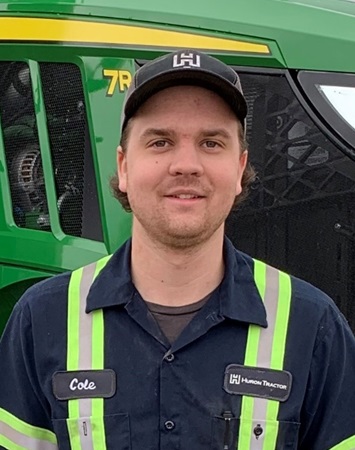 Meet Cole Eitel.

Service Tech/Part-Time Road Tech | Huron Tractor, St. Thomas

Cole is 20 years old and lives in St.Thomas. Growing up watching and working with his dad in the shop, Cole always knew he wanted to become a mechanic when he was older.

How I Got Here: Cole started with Huron Tractor through his high school co-op placement in 2019, and was hired full-time as a Service Technician after graduating. Both his dad and older brother are mechanics, and Cole spent many hours with his dad in the shop. Cole knew this was what he wanted to do, however, instead of working on trucks like his dad, Cole decided to give farm equipment a try.

And we're thrilled that he did! Cole has successfully finished his second John Deere Ag Tech Apprenticeship term and advanced to taking on the role of part-time mobile road technician. He loves new challenges and is always willing, eager and keen to work, with a positive attitude that makes him appreciated and well-liked by all.

When Not At Work: Cole enjoys dirt biking, snowmobiling, four-wheeling, fishing, and completing projects or working on his truck/toys in the shop.

Favourite John Deere: John Deere 8120 - because it's a strong, reliable, good-looking tractor.

Why I Love What I Do: Cole loves facing new and different challenges every day, and the rewarding feeling of helping customers. Whether it's the satisfaction of fixing something that's come in to the shop in need of repair and driving it back out of the shop in working order - or the extra challenge (which is what he especially loves) of being out on the road and learning to work with what he has to complete the repairs. Ultimately, it's a great feeling to get the customer up and running and put a smile on their face.

We've got to say, having Cole as part of our Huron Tractor family, puts a great big smile on our face as well - thank you Cole!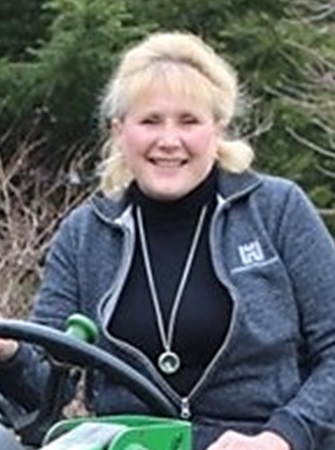 Meet Mary Beth Fischer.

Parts Representative | Huron Tractor, Walkerton

Mary Beth has seen many changes in farming over her 40-year career. However, one thing that hasn't changed is Mary Beth's hard work and dedication.

How I Got Here: Mary Beth joined our Walkerton store Parts department in 2004, but she already had many years experience working in Parts at other dealerships. In fact, in 1986, she was featured in an Ontario farm publication as one of the few females working in the role of Parts Manager at that time.

In her role at Huron Tractor, Mary Beth's focus is sourcing Parts for Walkerton's shop technicians, as well as supporting customers, parts distribution and ordering. With her experience and sharp memory, she is a frequent go-to person and her "never-give-up" attitude makes her a great resource. Mary Beth has a big heart and her determined nature shows her deep care for keeping everything and everyone running smoothly.

When Not At Work: Mary Beth and her husband, Don, have 4 children, 6 grandchildren, and a beautiful dog named Belle. They have a small family construction business that runs John Deere equipment outside of Mildmay, and at home they keep busy landscaping their 5 acres of extensive lawn, shrubs, trees, rocks, ponds and gardens.

Mary Beth has taught 4-H and been a horticultural president for many years. She has an interest in science and history, and enjoys gardening, camping, biking, reading, cooking, nature walks – but especially loves going on adventures with her grandchildren.

Favourite John Deere: Mary Beth often says she loves her John Deere 4210 tractor more than her car – she doesn't use a wheel barrel anymore! She's also a big fan of their Z930R Ztrak mower - which cut their mowing time down by an hour!

Why I Love What I Do: Mary Beth loves the challenge that every day brings and thrives on increasing her knowledge. She says it's exhilarating when all jobs go in and out of the shop seamlessly - even with today's extraordinary circumstances.

Nothing Runs Like A Deere... and Mary Beth, we know how much care you put into keeping things running well. Your dedication and commitment is greatly appreciated by your Huron Tractor family!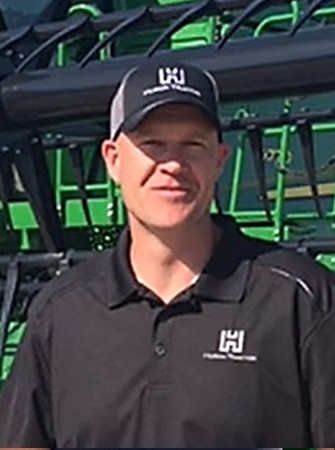 Meet Kevin Pardy.

Branch Manager | Huron Tractor, Thamesford

Growing up on his parents' farm in Thorndale, Kevin was raised with green equipment. In fact, Huron Tractor has been a part of his life from before he can remember, and his earliest memories are of his father helping him up onto the stool in front of the counter when they went to pick up parts.

How I Got Here: Kevin began his career as a co-op student at Huron Tractor Thamesford in 1998, at the age of 18. With his immense love for equipment and farming, he was immediately a great asset in the shop. Since then, Kevin has continued to excel at the Thamesford store as a Service Technician and Road Technician for 20 years, as an Ag Sales Representative for 3 years, and now as the Thamesford store's Branch Manager.

Kevin always gives his all and puts his heart into his work. He is extremely dedicated, and seems to have one gear and it's wide open. At 6-feet, 5-inches tall, his long strides carry him anywhere in a hurry – and he seems to only hit about one step when galloping up a combine ladder. Kevin leads by example and inspires a strong work ethic and positive environment with those around him. He understands and loves the farming community, and his experience, passion, and positive, dependable nature have earned him the trust and respect of staff and customers alike.

Favourite John Deere: 1970 John Deere 4020 Tractor - because they still have one on the family farm.

When Not At Work: Kevin keeps busy farming both his own land and working on his family's farm, as well as spending time with his 2 daughters, Gwen and Emma, and playing hockey in the winter. If you've ever played hockey with Kevin, you'll know he's a fast, quality player you won't soon forget.

Why I Love What I Do: Kevin has been fascinated with John Deere equipment since he was young and Huron Tractor has always been a big part of his life - so supporting and working with the farming community he's grown up in, it just comes naturally.

And Kevin, it comes just as naturally for all of us in your Huron Tractor family to take this opportunity to say, we are very grateful for you.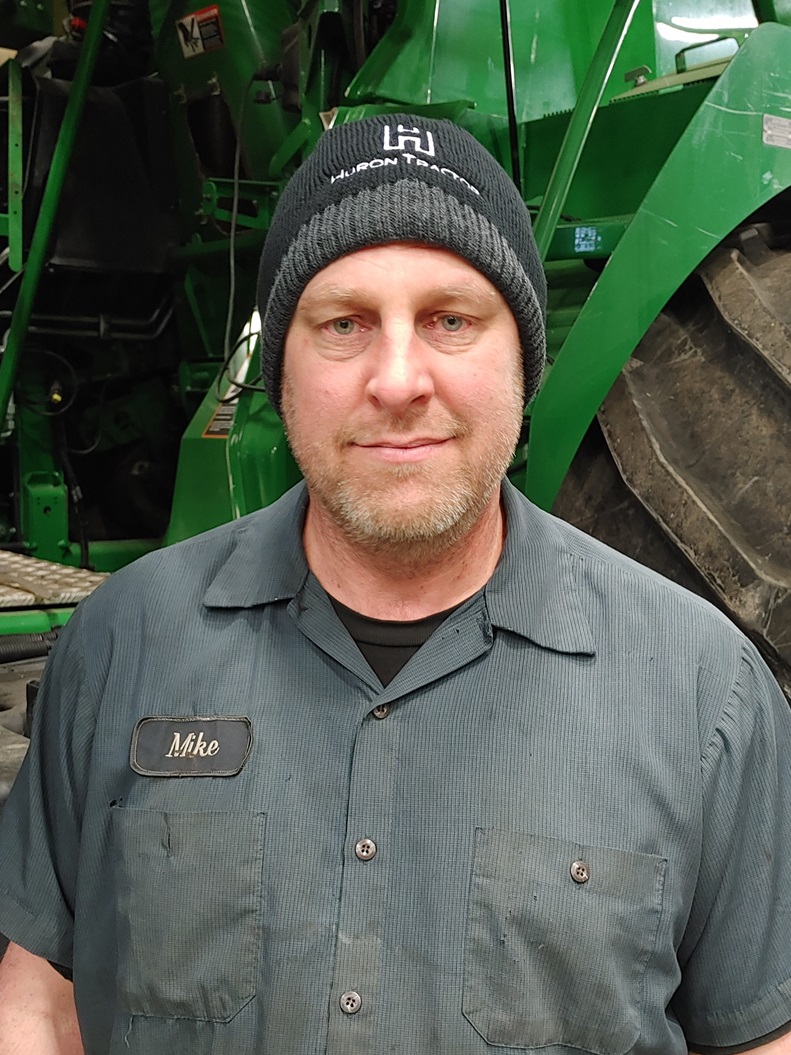 Meet Mike Van Der Does.

Service Mechanic & Part-Time Truck Driver | Huron Tractor, Chatsworth

Mike is from Park Head, and was born and raised on his family's dairy farm. His youngest brother now runs the farm and his parents (Case & Liz) live across the road. And of course, Mike often spends time at the farm lending a hand and helping out as well – especially with the equipment.

How I Got Here: In grade 13, Mike completed a co-op placement at Ivan J.H. Carmichael Ltd. (the John Deere Chatsworth dealership at that time) and then went on to complete his Truck & Coach Mechanic License at Canadore and Centennial Colleges. For the first twenty years of his career, Mike worked with Harold Sutherland and Millers Construction, and then joined our Huron Tractor Walkerton team in 2016, because he liked the ongoing training and educational advancement opportunities here. In 2018, Mike moved to our Chatsworth store, which was almost like a homecoming to where it all began for him in grade 13.

Mike is one of the most focused technician's in the Chatsworth shop. Dependable and steadfast, you can set your watch by his unswerving arrival each morning - but don't speak to him until he's had a couple sips of coffee. Then he's all set! You'll always find him knee-deep in a job, no matter what time of day you walk by his station. Which is why he got the nickname "Dozer" because he's always hard at work.

Favourite John Deere: The 10 Series because it's a good solid tractor.

When Not At Work: Mike has 4 snowmobiles that he and his wife Rachel, his daughter Ruth, and his son Peter, enjoy riding during the winter when the weather permits. In the summer, they enjoy family time together camping all over Ontario with their travel-trailer.

Why I Love What I Do: Mike loves helping customers with their equipment repairs – and the challenge of resolving mechanical problems. He always feels glad to return a piece of equipment back to the customer "field-ready"!

From all of us, a big "THANK YOU" Mike. You are a great asset to our Huron Tractor team!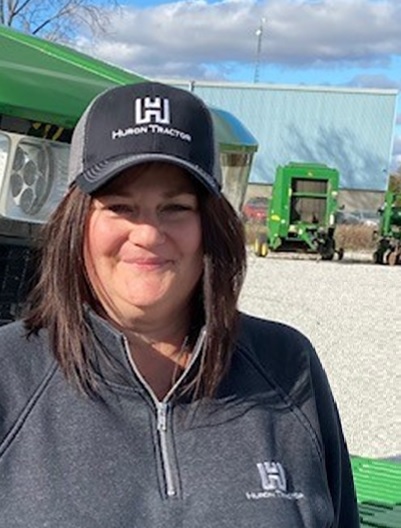 Meet Julie Atkinson.

Assistant Controller | Huron Tractor, Chatham

Julie and her husband Mike (high school sweethearts) live in Comber. Growing up in nearby Merlin, Julie feels like working at a John Deere dealership was born into her genes. Her father, Carl Atkinson, was Dealer Principal at Kentown Limited, the previous John Deere Dealership in Tilbury/Comber, Essex and Windsor, and her mother, Maureen, was active in the business as well.

How I Got Here: Julie didn't plan on working at the dealership. After finishing her Bachelor of Commerce at the University of Windsor, she intended to work in the field of municipal administration. However, at the time of her graduation, Kentown Limited needed help during the spring season with answering phones, washing lawn mowers, and unpacking parts, so Julie agreed to help out temporarily. Soon she was helping in the Accounting Department as well and eventually took over the position full-time. When McGrail Farm Equipment purchased majority interest of Kentown Limited, Julie's parents retired and the opportunity arose for Julie to invest in the business.

In 2021, McGrails became Huron Tractor, and Julie's 28-year career continues strong, carrying on her family heritage along with her only sibling, Christine Park, who also works in Sales at Huron Tractor's Comber store.

Julie's co-workers describe her as their "mother-hen" because she's always caring, always looking after everyone, always willing to listen and lend a hand with any job in any department. No task is too tough and if something needs to get done, Julie gets it done. Julie has a big heart that bleeds green, and her vast experience working with John Deere is invaluable.

Favourite John Deere: Julie has always loved the history and nostalgia of the older equipment, so if she had to choose... probably the classic John Deere 4020 tractor.

When Not At Work: Julie is a loyal Detroit Lions and Detroit Tigers fan. She likes to watch NFL football, baseball, racing, as well as garden, cook, travel, and hang out with friends and family. With her caring nature, she's also an active volunteer as treasurer with the Lighthouse Cove Ducks Unlimited Committee, and has held numerous positions with the local chapters of the Associations for Certified General Accountants of Ontario and Chartered Professional Accountants of Ontario over the past twenty years, as well as participating as a canvasser for Heart & Stroke and Canadian Cancer Society.

Why I Love What I Do: Julie loves that each day brings a new challenge. She says "It's never boring and doesn't feel like a "job" because of the great co-workers and customers!"

And Julie, we think you're pretty great too, and hope you know how truly appreciated you are by your Huron Tractor family!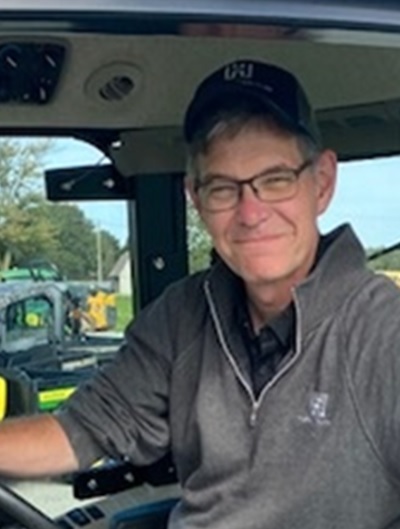 Meet Chris Hern.

Parts Manager | Huron Tractor, Hyde Park

Chris lives in Exeter with his wife Kate, and teenage children Kayleigh and Connor. He grew up on their family's dairy farm operated by his grandparents, uncle, and Chris's father Larry. Many may know Larry Hern as he was Huron Tractor Exeter's Parts Manager from 1970 to 1982, and continued to work in Exeter parts from 1991 till his retirement in 2015.

How I Got Here: Chris says he "literally grew up with Huron Tractor." He recalls going to work with his dad on Saturday mornings, playing with a box of toys under the front desk and putting miles on a cast-iron pedal tractor riding it all over the building.

In addition to working on the family farm, Chris worked every summer from the age of 16 to 22 at the Canners in the field department operating the pea harvesters, working ground, planting peas and sweet corn, operating harvest equipment and working with the maintenance crew to keep everything going.

In 1995 after completing English & History at university, Chris was deciding on his career path and started working in Parts at Huron Tractor Thamesford. Little did he realize his career path journey had already begun... In 1996 he transferred to the Parts department in Blyth and in 2002 was promoted to run Huron Tractor's satellite store in Arva, selling lawn & garden equipment as well as parts. In 2008 this location was moved to the all-new Hyde Park store where Chris continues to excel in his Parts career.

With 26-years experience, Chris is known by customers as one of the "best parts guys around" and always goes above and beyond to help someone out. Chris has made hydraulic lines on Christmas Day and robbed parts off a combine at 2 AM. The day his daughter was born, he even stopped at the shop to drop off parts for a customer at 4 AM on the way to the hospital, while his wife had a contraction in the Huron Tractor parking lot.

Favourite John Deere: John Deere 4430 - he spent hundreds of hours in that tractor and fondly recalls riding shotgun with his grandpa during fall plowing.

When Not At Work: As a self-taught guitarist, Chris now has 5 different guitars and enjoys jamming with his son who he also taught to play. Life with two children just 15 months apart continues to keep Chris and his wife very busy with their activities, however his favourite place in the world is their family cottage in Muskoka, where they all enjoy spending family time with Chris's parents in the summer.

Why I Love What I Do: For Chris, he loves solving problems and seeing customers smile with relief when he has used all his skills to get them back up and running again. He's also especially grateful to have had the opportunity to learn from many of Huron Tractor's great Parts Managers over the years – including his very own dad.

And Chris, for all you do - your Huron Tractor family is extremely grateful for you!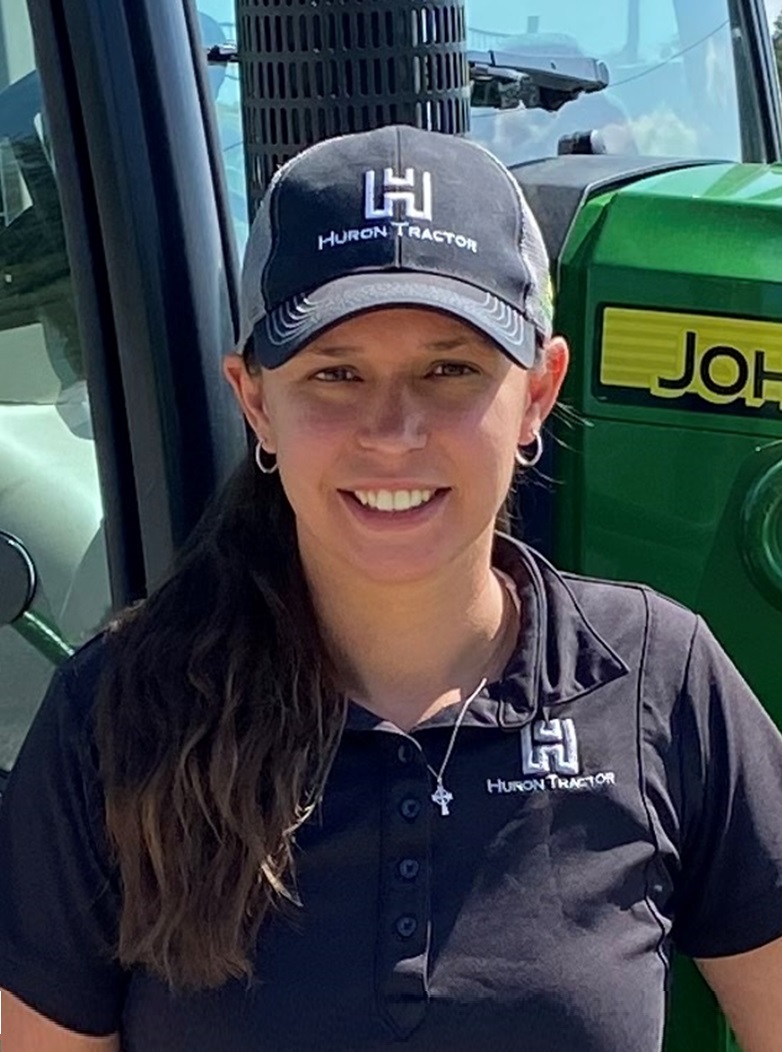 Meet Gillian Findlay.

Turf Sales Representative | Huron Tractor, Stayner

Gillian is 37 years old, and was born and raised in Alliston. She and her two older brothers are first generation Canadian as her parents moved here from Britain in 1967. Gillian, along with her partner Jason and their daughter Addison, live in Dunedin just minutes from our Stayner store.

How I Got Here: At 15 years of age while working her first job at the Alliston TSC Store, Gillian discovered her passion for helping and building relationships with the local customers and farmers. She eventually moved on to work in the parts department at Markdale Tractor till its closure, which led to her joining Huron Tractor in 2013. Gillian began her career at Huron Tractor in parts & service and grew into her current Turf Sales role.

"Excellent customer service!" is the most frequent comment made about Gillian. She loves getting to know her customers and taking time with them to demonstrate a genuine care in providing the best possible service. Her bright cheerful nature is contagious with everyone in the store – customers and coworkers alike.

Favourite John Deere: A 1941 John Deere Model D because of the great memories from when she was younger trying to spin the flywheel to get it started and the thrill of finally getting it going!

When Not At Work: Dirt biking, gardening, playing/watching baseball and spending time at their property up north off-roading, fishing, boating and making family memories. Gillian also enjoys travelling to Scotland as often as possible to visit all her extended family there.

Why I Love What I Do: "Amazing customers!" Gillian says her customers and colleagues make it a happy place to come to everyday. She has always believed you should love your job and the people you work with because you often spend as much time together as you do with your own family. In her own words, that's one of her favourite things about Huron Tractor, "We are like a family."

And we're glad you're part of it, Gillian!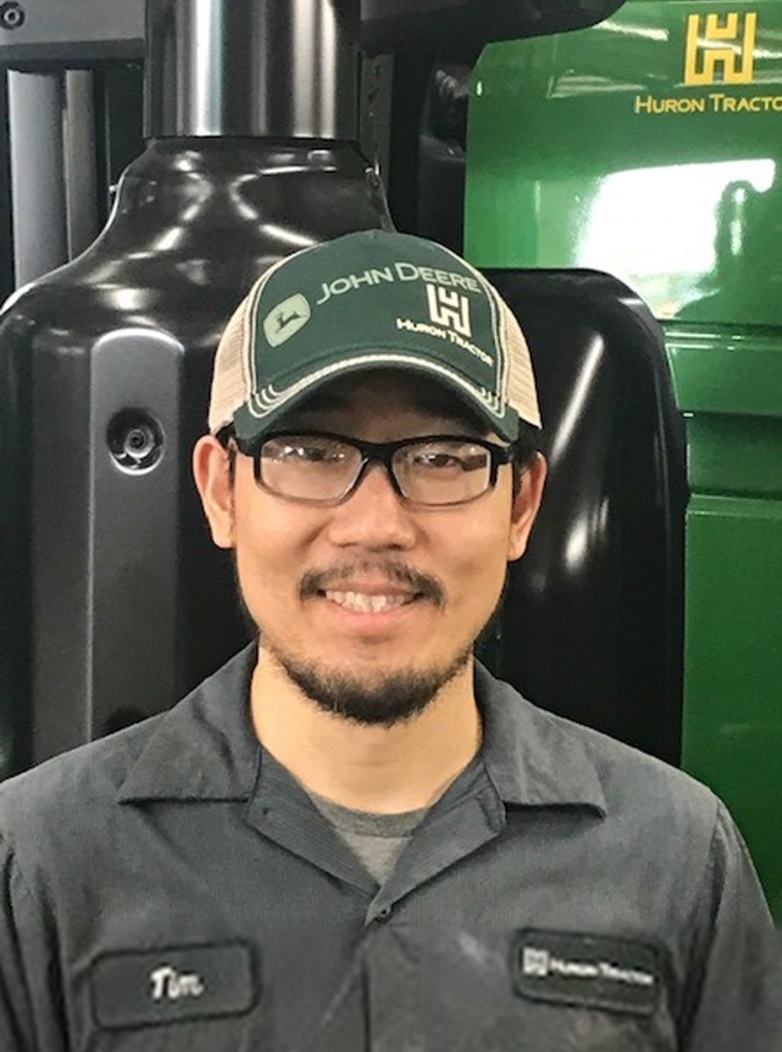 Meet Tim Lee.

Service Technician Apprentice | Huron Tractor, Mitchell

Tim is 39 years old and moved here with his wife and two daughters (ages 5 and 8) from South Korea four years ago. Although it's natural to sometimes miss his hometown, Tim wanted to give his daughters the opportunity of living in a different country. And after a 10-year office career in South Korea, Tim was ready to embrace a totally new career here too.

How I Got Here: Arriving in Canada, Tim wanted to find work in a completely different field from his repetitive office routine and selected the Motive Power Technician program at Fanshawe College. It was something totally new for him that offered continuous learning opportunities, problem-solving, and exciting challenges every day. His professor connected Tim with Huron Tractor at a job fair and he was hired in March 2020. Tim was nervous about being new to this industry but really enjoyed the challenge of working as an agriculture technician.

Huron Tractor is thrilled to have Tim join our team. He is an exceptional worker with great motivation to excel and do well. Always happy and smiling, he has a terrific personality and gets along well with everyone, bringing a very positive attitude to the shop. He gives his best every day.

Favourite John Deere: 6410 Tractor - the first tractor he repaired when starting with Huron Tractor.

When Not At Work: Family time, cooking and talking with his wife or playing with his daughters. They all enjoy outdoor life together, fishing and camping.

Why I Love What I Do: Tim loves the sense of accomplishment when finishing a repair and a job done well. Working here makes him happy and as he still struggles a bit with English, Tim genuinely appreciates all the support of his co-workers .

With this whole experience, Tim believes it encourages his young daughters to grow and be strong in life. We certainly believe it will as well, and are so happy and grateful to have Tim and his family join our Huron Tractor family!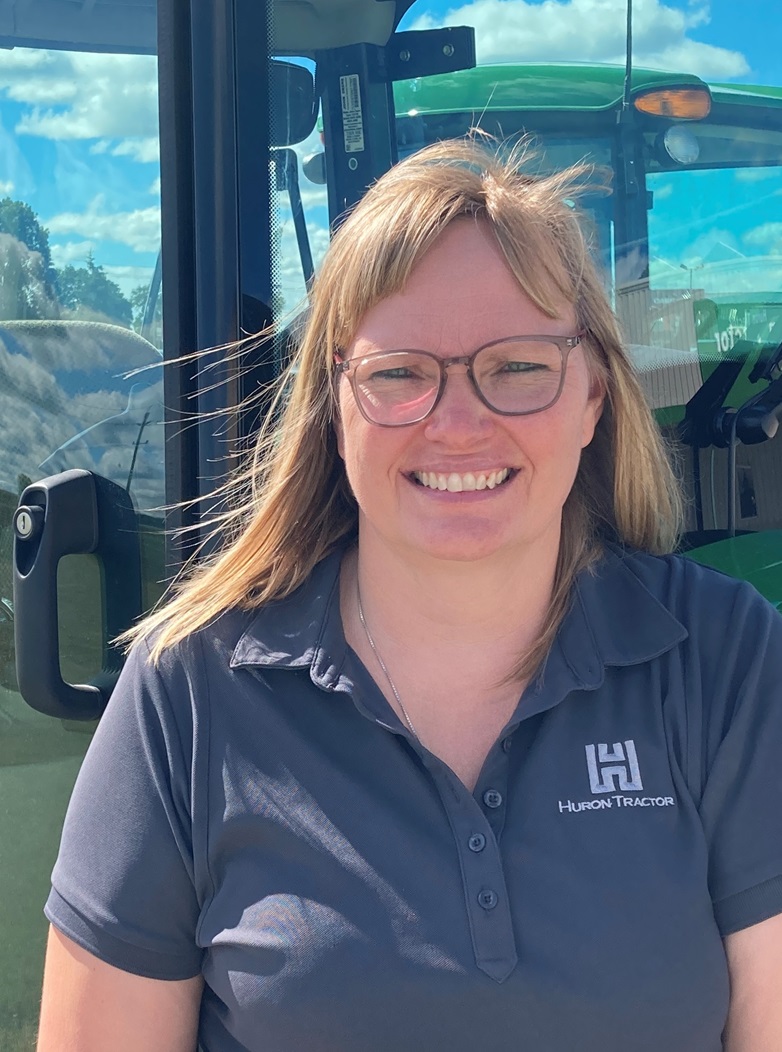 Meet Mary Ellen Finlayson.

Settlement Auditor | Huron Tractor, Exeter

Mary Ellen is 46 years old and grew up enjoying country and farm life on her family's cow/calf, cash crop farm outside of Varna. Her strong work ethic was instilled at a young age picking stone, baling hay, and even delivering calves when things got "desperate".

How I Got Here: Mary Ellen started with Huron Tractor 23 years ago, in April 1998. After graduating from Business/Accounting and working at an accounting office for a couple years, she saw an advertisement for an Accounting Assistant position with Huron Tractor in Exeter, and jumped at the opportunity.

Since then, she has worked her way up to be a Settlement Auditor, processing paperwork for multiple store locations. Not only is her experience and knowledge invaluable, but her calm, patient demeanour in managing the high level attention to accuracy and deadlines required with her role, make her truly a pleasure to work with.

When Not At Work: With her friendly, outgoing nature, Mary Ellen just seems to know everyone and is always welcoming and supportive. She's a friend to all and always there to lend a helping hand.

At home, Mary Ellen enjoys time with her husband Mark, and their 2 sons Jack and Sam. Naturally, she is instilling that same strong work ethic in her boys, as well as active taking them to hockey and golf. She also enjoys her flowerbeds, reading, and being together with friends and family.

Why I Love What I Do: Thanks to her hard working nature, Mary Ellen appreciates the very busy work environment handling settlements, invoicing, and other accounting duties for multiple stores. Every day is different. She notes that Huron Tractor sets high standards and goals, so it's rewarding when those are achieved and you can take pride in your hard work.

And without a doubt, we are proud and grateful to have you as part of our Huron Tractor team, Mary Ellen!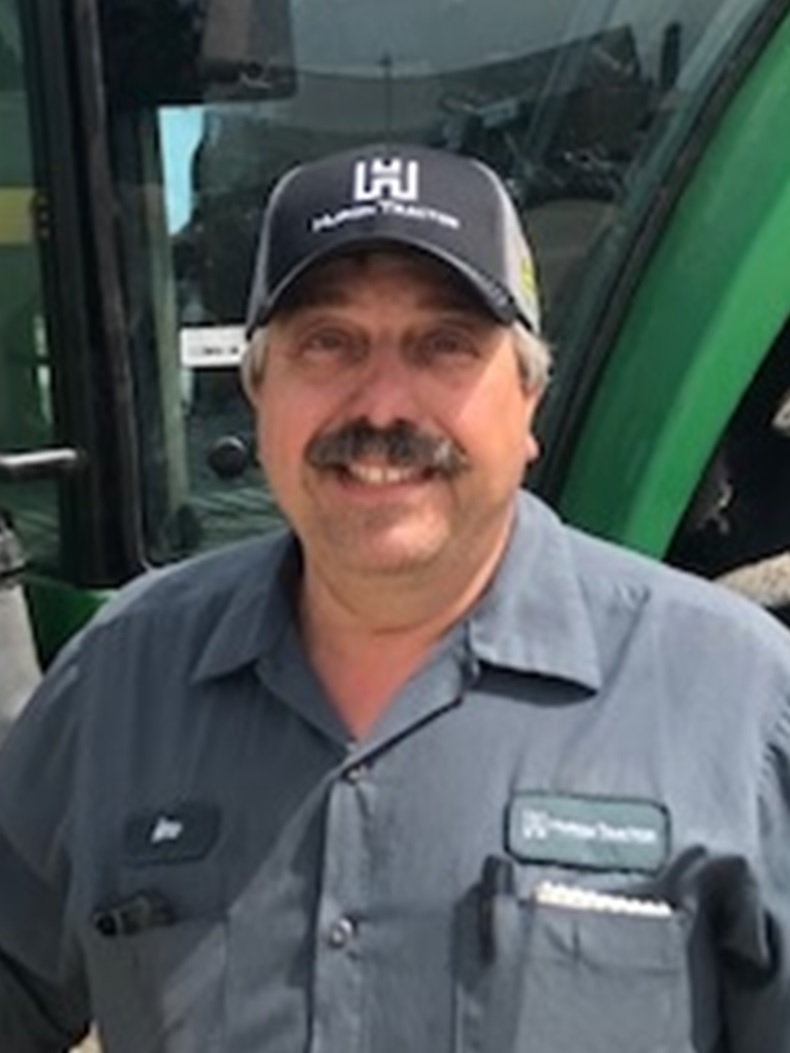 Meet Merv Reinhart.

Service Technician | Huron Tractor, Walkerton

Merv is 61 years old and was born and raised in the Mildmay area. He started working as a service tech right out of high school. He completed his trade school and has been working at it ever since - 43 years!

How I Got Here: Merv has worked over 23 of those years on John Deere equipment starting in 1998 with Bruce Tractor, which became Northridge Tractor, which then became Huron Tractor. He is known for his knowledge of different makes and ages of equipment.

When Not At Work: Along with this his wife of 39 years Harriet, Merv farms 150 acre cow/calf beef operation. He is the 5th generation on the farm which has been in the Reinhart name for over 150 years. Together, they have raised 5 children and are very proud of their 6 grandchildren.

In his spare time, Merv enjoys fishing, flea markets, and looking at antique vehicles and equipment. But most enjoyable is time spent with Harriet and their children and grandchildren.

Favourite John Deere: Although Merv has acquired several very useful John Deere tractors and equipment over the years, if he had to pick a favourite it would be his 7210. It came out the year he started working on John Deere equipment, and has always worked well with very few problems.

Why I Love What I Do: Merv loves the challenges of diagnosing and repairing machinery. He likes interacting and meeting customers that come to the shop, or even helping answer questions from people across different provinces. He enjoys working with his fellow techs and passing on some "tricks of the trade" to young technicians as they are starting out and asking for advice – perhaps recalling his own early days in the trade 43 years ago.

For your years of hard work and experience – your Huron Tractor family truly appreciates you, Merv!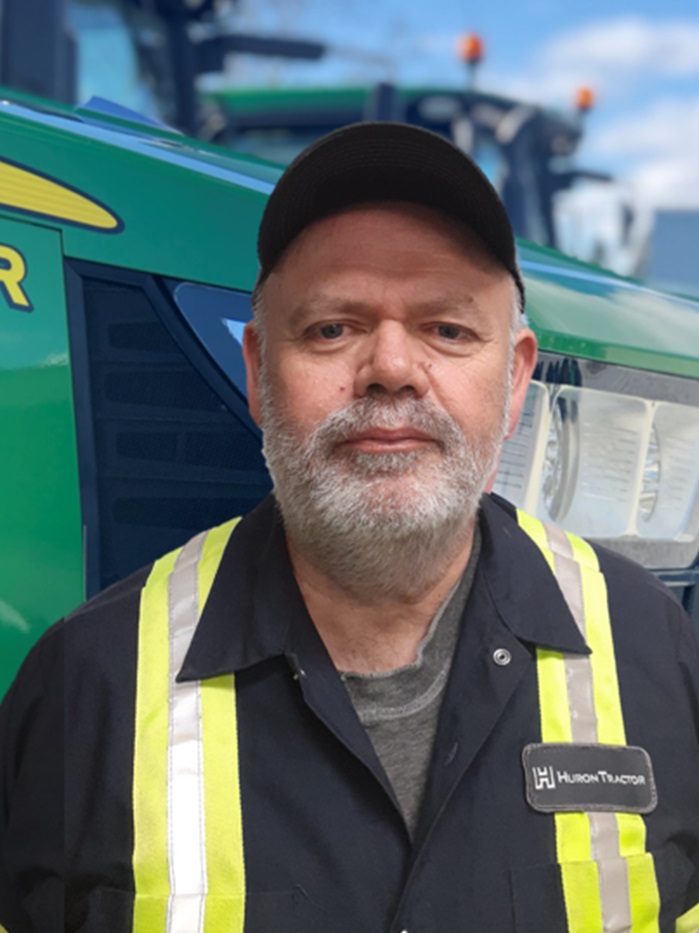 Meet Terry Caron.

Shop Foreman/Service Technician | Huron Tractor, Comber

Terry is 59 years old and has faithfully worked in the Comber store Service Department for 41 years. He and his wife Carolyn have 2 sons Alex and Eric, and a dog named Fred.

Although a humble man of few words, Terry's colleagues describe him as simply a great guy and one of the most well-respected technicians in Essex County.

How I Got Here: If you haven't already done the math, Terry began his career in 1980 at the age of 18 with Kentown, which was later purchased by McGrail's and most recently acquired by Huron Tractor.

Terry was following in his dad's footsteps, quite literally. His father Ernie also worked as a technician in the Comber shop from 1971 right up until the onset of the covid pandemic last year which deemed retirement a wise decision. Folks recall Terry helping in the shop alongside his dad even as a very young teen, and it's a rare and special history that they continued to work side by side all these many years.

When Not At Work: A huge Cowboy fan, Terry loves his football. He also operates a cash crop farm and in his own words "When I leave work, I farm."

Favourite John Deere: 4020 Diesel, because it's easy to fix and has no computers.

Why I Love What I Do: The farming community is Terry's way of life and he enjoys meeting and helping out farmers and customers.

Likewise, customers and co-workers love working with Terry. Yes, he may be a man of few words but his story speaks for itself of his great dedication and experience.

We are grateful that your father's footsteps led you here, Terry, and consider ourselves very privileged to call you part of our Huron Tractor family.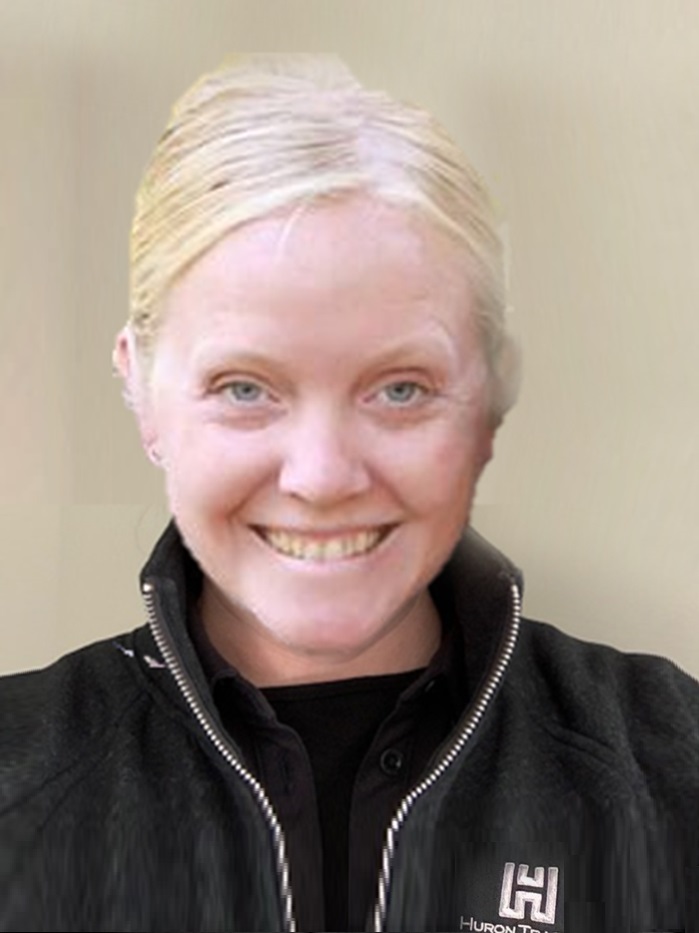 Meet Janet Beatson.

Store Admin | Huron Tractor, Hyde Park

Janet is 39 years old and lives near Lucan with her husband, Jason, and their busy family of three young girls. Born and raised on a dairy farm south of London, Janet began her career with Huron Tractor in 2005.

How I Got Here: Growing up, Janet was always active on her family's farm and busy with Girl Guides and 4-H. After graduating from Hospitality & Tourism, she worked for 5 years in the hotel industry before returning to her agriculture roots and joining our Huron Tractor Thamesford team as a Store Admin.

In 2015, Janet accepted the new Store Admin role at our growing Hyde Park location, where her versatile skill set, experience and hard-working nature are an invaluable asset.

When Not At Work: You'll always find Janet on the go. With her generous spirit and positive, spunky, no-nonsense, get-the-job-done attitude, she's the first one to help out - whether it be at work, in the community, or with friends and family.

To this day, Janet is always helping on her parents' farm. Her young girls especially enjoy time there working with their 4-H calves. From watching her girls in their many extra-curricular activities, to time by the pool or on trips, Janet loves family-time, along with baking, cooking, and working outside in her beautiful expansive gardens.

Janet's been involved for years with the Ilderton Fair Homecraft Committee – and was even awarded "Top Baker" – as well as her support and involvement with Trucking For Kids. And if your kids ever attend the John Deere Day of Play events at our Huron Tractor Hyde Park store, they won't find any store-bought cookies there. Only Janet's home-baking will do.

Favourite John Deere: 1025R Compact Tractor – her constant companion for all her property care at home.

Why I Love What I Do: Simply put, Janet loves coming into work to help customers – both new and long-time. With a soft-spot for kids, one of the best things about her day is seeing the smiles on children's faces when they have found that perfect John Deere toy.

Janet, you put your heart into all you do, and so from our heart to yours, your Huron Tractor family thanks you!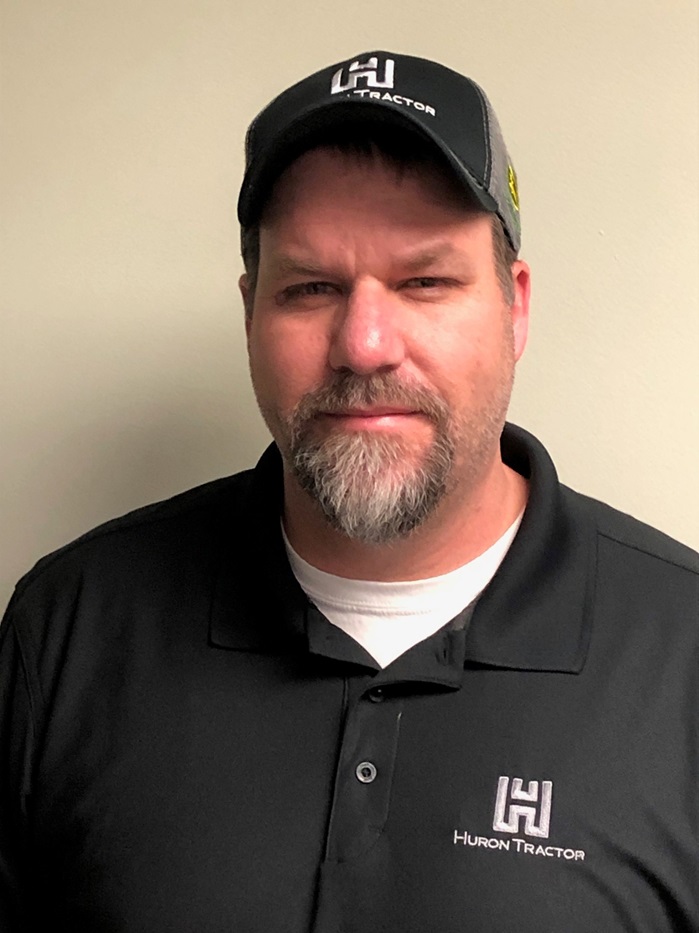 Meet Shawn Mardling.

Parts Manager | Huron Tractor, Chatham

Shawn is 45 years old and has been working in the Chatham store Parts Department for over 23 years. A life-long resident of Chatham, Shawn is the father of three, and doting grandfather to his four-year-old granddaughter.

How I Got Here: After graduating from Business Administration and completing his Marketing degree, Shawn worked in retail and has always believed in treating people as you would want to be treated. This principle made him a great fit when he began working the Parts counter at McGrail's in 1997, leading to his role as Parts Manager.

Shawn's likeable, hardworking, considerate nature makes him a go-to person at the dealership whether you need help with a task or just someone to talk to. He's knowledgeable, professional, always puts forth top quality work and strives for the best. With Shawn, customer service is key.

When Not At Work: Kind of a perfect pastime for a Parts Manager, Shawn enjoys taking things apart and restoring them back to new. As well as camping, cooking (he's a bit of a 'foodie') or going on relaxed rides on his bike along the lakeshore discovering new places to eat at different ports and towns. And of course, trying to keep up with his energetic granddaughter.

Helping serve meals at community fund-raisers or helping friends with everything from home renovations to vehicle repairs, Shawn is a true team-player with a big heart, always willing to pitch in and serve others.

Favourite John Deere: At home, it's his John Deere 425 riding mower and at work, a trusty John Deere 544 Wheel Loader.

Why I Love What I Do: As you can tell, Shawn values people. Treating them right and the challenge and satisfaction of being able to help customers find solutions – from the right toy for their kids to a part for their equipment. Over time customers become like friends, and co-workers become like family, so the best part of coming to work for Shawn, is the people.

For 60 years now, Huron Tractor's motto has been "We're BIG on Customer Service" and without a doubt, Shawn, you embody all that and more! We are grateful to have you as part of our Huron Tractor team.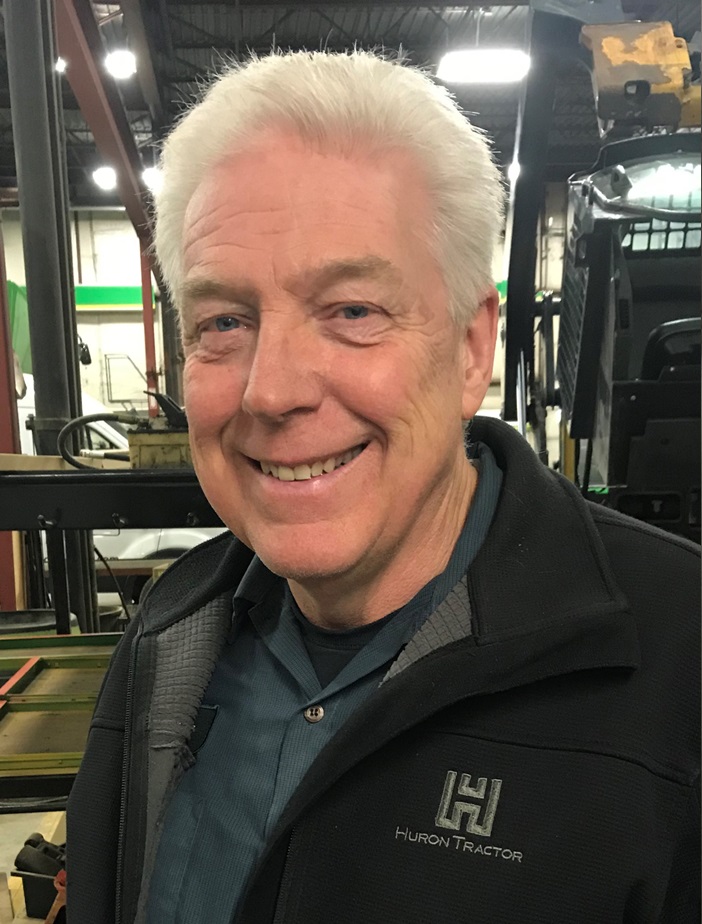 Meet John Johnston.

Turf & Compact Construction Equipment Technician | Huron Tractor, Thamesford

John is 67 years old and lives in London. He's been pulling wrenches with our Thamesford service department for 20 years, and is the proud father of two, and grandfather of four. As you can see from his photo, John always has a big smile for everyone.

How I Got Here: John has a long-standing career working around equipment and engines. Before joining Huron Tractor, he worked 20 years as a construction equipment technician. Ask anyone, John pretty much knows everything there is to know about engines. It is truly his passion and he spends as much time (if not more) around them when he's off the job as he does at work.

When Not At Work: You'll find John collecting and restoring vintage snowmobiles and bikes, as well as racing snowmobiles, motocross, and working on the crew of a stock car team. And yes, in case you're double-checking, you read it right before. He's doing all this at an impressive 67 years of age.

Favourite John Deere: You guessed it…. a 1978 John Deere Liquidator Snowmobile. In fact, John's choice is rather appropriate, because as you may or may not already know, the iconic slogan "Nothing Runs Like a Deere", actually started with John Deere's snowmobile line in 1972.

Why I Love What I Do: Well, if you couldn't tell from his life-long career and hobbies, John loves equipment and engines. If you've ever had a conversation with John, his enthusiasm and zeal is obvious as he loves sharing his knowledge and stories with people.

We'd also be remiss by not mentioning that John Johnston must clearly be partial to the name "John" so working with "John Deere" only seems fitting.

So thank you John – and with your Huron Tractor 20 year milestone, might we even say… "Nothing Runs Like John".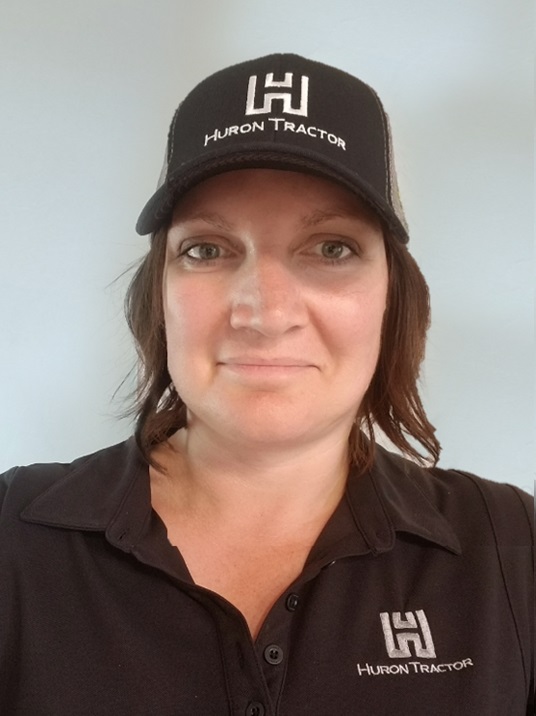 Meet Andrea Shortreed.

Store Admin & Service Writer | Huron Tractor, Blyth

Andrea has been part of our local farming community her entire life - growing up on her family's farm near Brussels, and now with her husband and five children on their farm outside of Walton. Her farming roots extend back through both sets of grandparents, who farmed around Blyth after emigrating from Holland in the late 1940's, and generations of their large families continue farming here today.

How I Got Here: Some of Andrea's earliest memories are of "parts-runs" with her dad to Huron Tractor Blyth, and then as his gofer once she could drive. She joined the Huron Tractor team in 2018, after years of managing her parents' farm books, caring for her busy family, and previous work experience as a Service Writer.

In her dual-role as Store Admin and Service Writer, Andrea does it all. Multi-tasking in all areas of the business, Andrea capably takes it in stride, serving customers and staff alike with her competent nature and steadfast dedication to excellence.

When Not At Work: As you can imagine, Andrea's talents, hobbies, and interests span everything from extensive home renovations, making maple syrup, decorating celebration cakes, camping, 4-wheeling, cottage-time, and of course chauffeuring her four sons and daughter to hockey, baseball, gymnastics, etc. Plus nurturing their family dog, who will otherwise hide shoes around their yard if feeling left out.

Favourite John Deere: Their 6140 tractor tops her list, but with four sons, her only opportunity behind the wheel was driving it home. She also has fond memories as a kid learning to cultivate with their 4240 tractor, which was passed along from her grandparents to her parents.

Why I Love What I Do: For Andrea, our customers, co-workers, and the every-day challenges are all part of the rural community she's loved her entire life. And we're grateful for her conscientious care for all of us!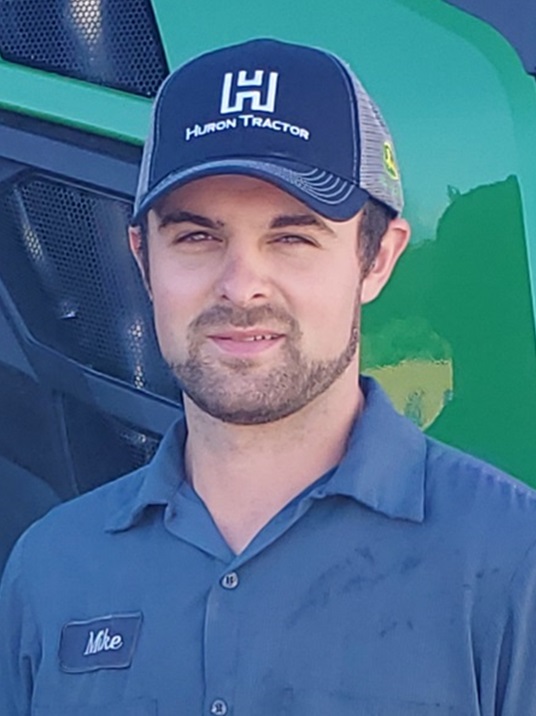 Meet Mike Wyant.

Service Technician | Huron Tractor, Stayner

Mike is 23 years old and lives in Stayner. He officially began his career as a Service Technician with Huron Tractor in 2015, but had already proven himself to be a valuable asset within our company.

How I Got Here: Growing up on his family's cash crop farm, Mike always had an interest in farm equipment. In high school, Mike participated in co-op placements with Huron Tractor and his likeable, helpful, hard-working demeanor quickly made him a natural fit for our team. After graduating high school, Mike was hired full time and completed the John Deere Ag Tech Apprenticeship program. In his words, "It was a really good program, great information, great hands-on experience, and I would definitely recommend it."

Mike has a big heart, is quiet, polite, always helping, and determined to get the job done right. When you think of Mike, you think integrity.

When Not At Work: You'll still find him around equipment and continuing to help - working on the family farm and snowmobiling in winter.

Favourite John Deere: Mike's always liked the John Deere 8410 Tractor, simply because it's proven and reliable. (Kind of like Mike, we think.)

Why I Love What I Do: For Mike, he loves that every day offers a different challenge, meeting customers, and helping resolve their equipment issues.

So from your Huron Tractor team - thank you, Mike! For being an integral part of what makes up the Huron Tractor difference.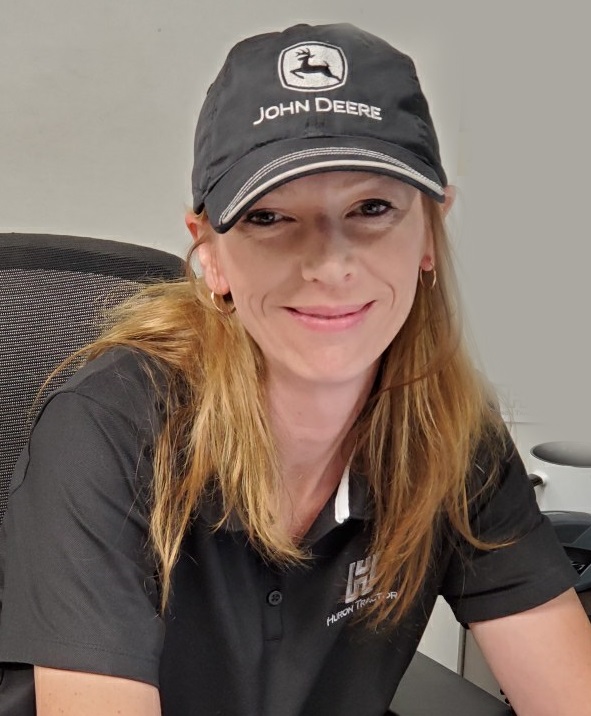 Meet Charlotte Hilder.

Parts Manager | Huron Tractor, St.Thomas

Joining our Huron Tractor Parts team over 6 years ago, Charlotte accepted the position of Parts Manager in March 2020.

Charlotte lives in St.Thomas, but was originally born in Maine, and grew up in Kincardine on the shores of Lake Huron. Her father owned standardbred horses and she enjoyed spending time at the track with him, travelling around Southwestern Ontario.

How I Got Here: Perhaps her time around horses is what initially steered Charlotte's career path to the farm supply and farm equipment sector. She began working in admin and accounting, but was naturally drawn to the equipment side and progressed to roles in parts and as a service coordinator over the years, realizing how much she enjoyed working in this aspect of the business.

In 2014, Charlotte was welcomed to our St.Thomas Parts team. Well-liked by everyone, her experience, dedication, and commitment, are complemented by her humble, friendly manner.

When Not At Work: That same likability and loyalty are reflected away from work too: spending time with family and friends. Whether relaxing at home altogether around the fire pit, travelling to discover new places, or local road trips which no doubt often lead back to some of her beloved 'lake-life' roots, it's all about the ones you're with.

Why I Love What I Do: No surprise, what Charlotte genuinely loves about her job, is the people. Getting to see and work with new and long-standing customers, as well as our Huron Tractor team every day.

And we all appreciate how much it shows in her devotion to both!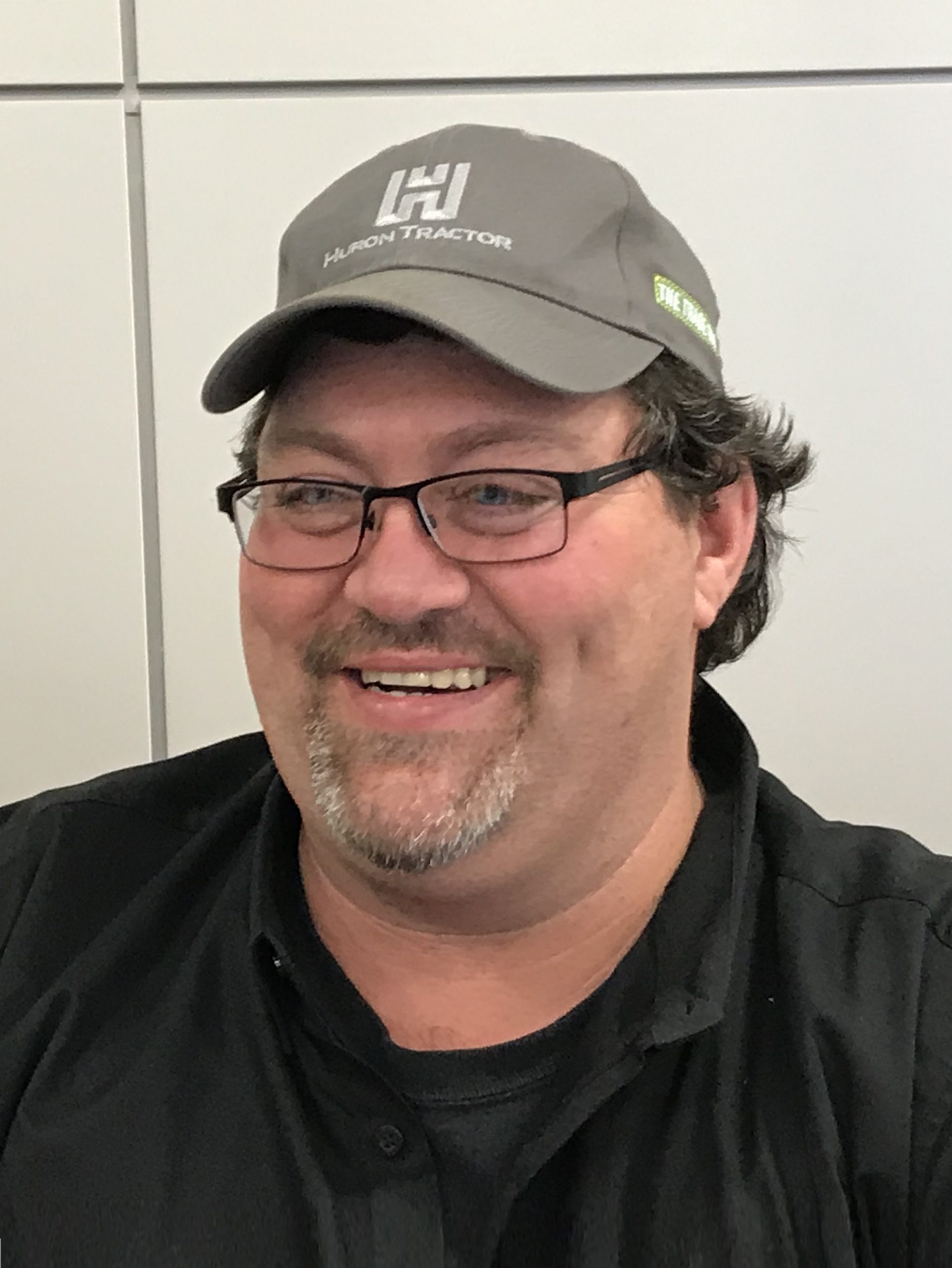 Meet Mark Baker.

Customer Parts Counter Representative | Huron Tractor, Exeter

Mark is 46 years old and lives in Crediton with his wife and their 3 children. Raised in the Exeter area, Mark is a familiar face to many. His career with Huron Tractor began in 1993 as a Service Technician for 27 years, before recently moving into his current role in Parts.

How I Got Here: From his family's farming background, Mark's passion for farm equipment solidified at the age of 12, when he began cutting grass and doing odd jobs at a local dealership. He soon progressed to helping with small engine repairs and then larger equipment. Mark loved taking things apart and fixing them and knew he wanted to be a farm equipment mechanic. This led to high school co-op placements at Huron Tractor, followed by accepting a Huron Tractor apprenticeship.

27 years later, Mark's passion for equipment continues strong. His valuable expertise, vast experience, and dedication to customers are a welcome asset to our Exeter Parts department.

Favourite John Deere: A tough question for someone with Mark's experience, but the classic John Deere 4450 or a 7800-7810-series tractor tops his list as always being a nice, general-work, farm tractor – not too big or too small.

When Not At Work: Commitment and reliability are evident with Mark's long-standing involvement in local organizations over the years, such as the Pineridge Snowmobile Club Board (24 years), Exeter Rodeo Committee (8 years), and presently the Crediton Cemetery Board (10+ years). Plus, as the father of 3 teenagers, Mark is kept busy supporting his kids in curling, hockey, and baseball.

Why I Love What I Do: Although Mark's career is inspired by his love of agriculture, machinery and technology, what's become best of all about what he does… is the people - our customers and co-workers - who've become like family.

And your Huron Tractor family, couldn't agree more!